Come and Play Toddler Group
Map location is approximate and should be used only as a guide.
Event Information: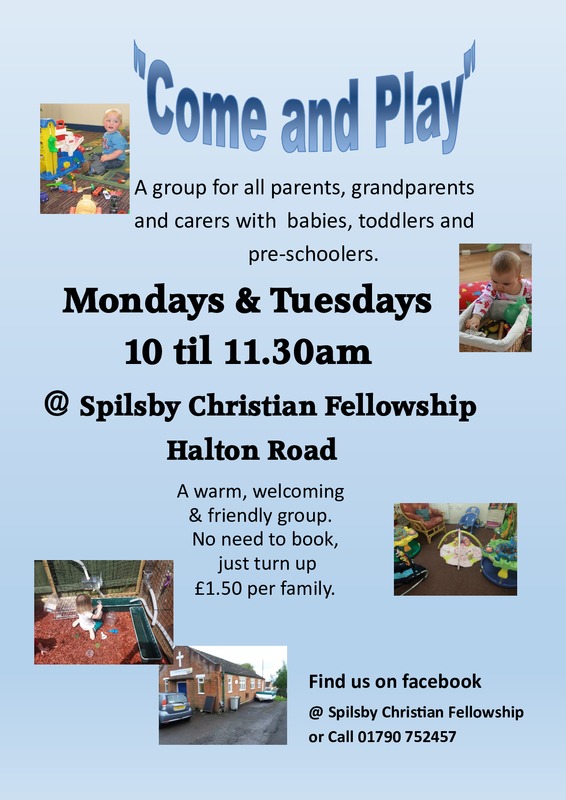 "Come and Play Tots" is a great place to make new friends, for parents/grandparents/carers, babies, tots and pre-schoolers.
As our name suggests we encourage adults to get involved in a range of play activities with their young charges - choosing from our Role Play Area, Sensory Corner, Construction Sets, Baby Exploratory Area, Small World, Puzzles, Messy Play, Crafts, or in dry weather Outdoor play space - activities are rotated, so each week is usually different. Whilst we love to see the adults interacting with their children, our sessions also provide opportunities for adults to engage with other, make new friends, provide peer support to one another and enjoy time for a cuppa. Drinks and refreshments are provided, and each session ends with a story/singing session.
We suggest a donation of £1.50 per family, to help cover our running fees.
"Come and Play" is held Every Monday and Tuesday during term time. Sessions are also held during the school holidays, but it is advisable to message, to check, as there can be times during the holidays when the group is out and about.
Organised By: Spilsby Christian Fellowship
Email:
spilsbychristianfellowship@live.co.uk
Telephone:
01790 752457
Event Date: Monday, 24th February 2020
From: 10:00am to 11:30am at Spilsby Christian Fellowship, 20, Halton Road, Spilsby, PE23 5LA
The information contained above was correct at the time of first publishing. The above information has been published by SpilsbyOnline in good faith, as provided by the event organiser(s).
All queries about the event should be directed to the event organisers and not to SpilsbyOnline. SpilsbyOnline cannot be held responsible for any loss relating to errors contained above.