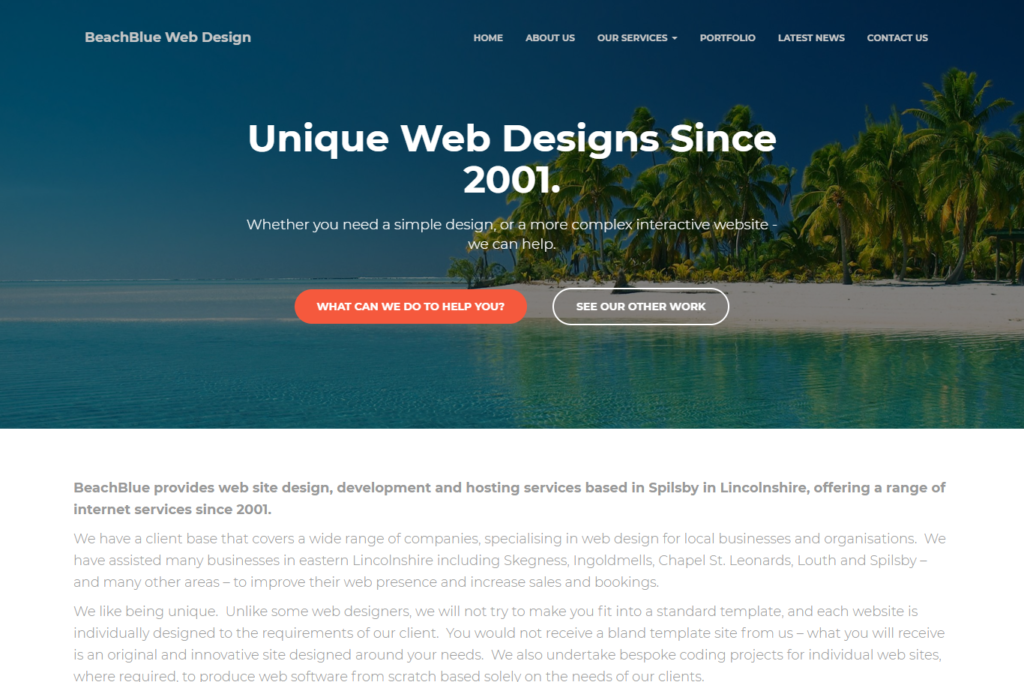 About Us
BeachBlue Web Design is a website design, development and hosting company based in Spilsby, Lincolnshire offering a range of internet services since 2001.
We have a client base that covers a wide range of companies, specialising in web design for businesses in the holiday trade – in the UK and Europe. We have assisted many businesses in the coastal areas of Skegness, Ingoldmells, Chapel St. Leonards, Mablethorpe and Cleethorpes to improve their web presence and increase sales and bookings. We like being unique.
Unlike some web designers, we will not try to make you fit into a standard template, and each website is individually designed to the requirements of our client. You would not receive a bland template site from us – what you will receive is an original and innovative site designed around your needs. We also undertake bespoke coding projects for individual web sites, where required, to produce web software from scratch based solely on the needs of our clients.
As internet users ourselves, we know that most users don't want all the fancy flash menus that take five seconds to unfold and animate every time you want to change the page! We know users want clean, simple and tasteful designs because a badly designed site is one that you don't visit again! Whether you need a brochure-style website, a content management system, or even an e-commerce solution, we can help.
We aim to provide a high-quality product at a very competitive price. We take a lot of pride in our work and if a website has been designed by us you can be sure that the quality of the site will be of the highest standard. Unlike many of our competitors, we try to ensure that all our web sites are cross browser compliant.
This means that our websites work across the largest number of internet browsers possible and each user gets the same experience. If you are interested in finding out how we can assist your business with its' web presence then please get in touch.
Contact Details
Use the contact form in the tabs below to contact us. Other contact details (if any provided) are listed below: