Electoral Boundary Shake-Up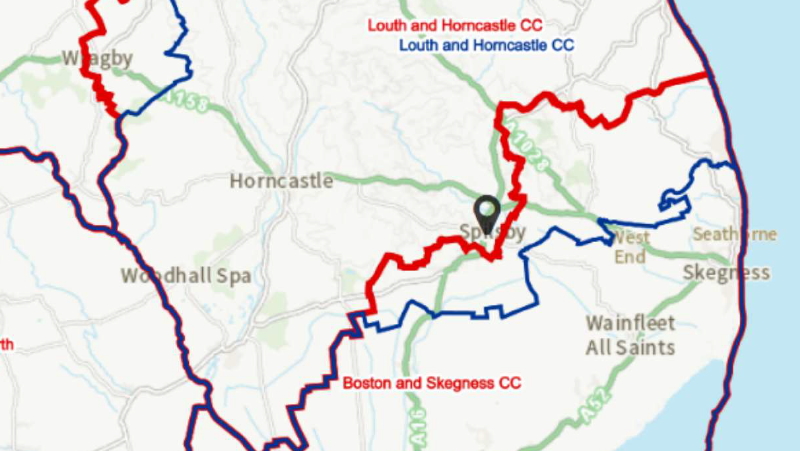 This article was published on June 8, 2021 and information contained within may now be out of date.
Villages around the Spilsby area are set to move constituency in an electoral boundary shake-up proposed by the Boundary Commission.
Under the proposals villages such as Halton Holegate, Toynton All Saints, East Kirkby, East and West Keal, and others will move from the Louth and Horncastle constituency into the Skegness and Boston constituency as the boundary lines are redrawn, with Spilsby itself remaining in Louth and Horncastle.
This means that a number of residents in the area will be represented by a different MP to residents in Spilsby. A map of the changes can be seen at the bottom of the page, with the blue lines showing the current boundaries and the proposed boundary marked in red.
The boundary is set to move to the very edge of Spilsby to the east, cutting between the Lady Jane Franklin estate and Halton Holegate, and near the A16 layby between Spilsby and Toynton All Saints to the south of the town. Partney will remain in the Louth and Horncastle constituency.
Elsewhere, the changes to the Boston and Skegness constituency go as far up as Ulceby, near Alford, and across to Anderby on the east coast, as well as bringing Wragby into the Louth and Horncastle constituency from Gainsborough.
In the East Midlands region the number of constituencies is being increased from 46 to 47, with the aim of ensuring each constituency has between 69,724 and 77,062 Parliamentary electors, as required by law.
The changes are taking place across the country, some of which are relatively minor changes such as those affecting the Spilsby area but some are more substantial. Under the proposals, England will see an increase in the number of constituencies from 533 to 543, Scotland reducing from 59 to 57, and Wales also reducing the number of constituencies from 40 to 32. Northern Ireland remains the same.
Some boundary changes are hotly contested as they can shift the power in constituencies between political parties, which is unlikely to be the case in Lincolnshire due to overwhelming electoral support for the Conservatives locally.
The overall number of constituencies remains the same, with a total of 650 Members of Parliament, despite previously aborting attempts to reduce down the number of MPs to around 600.
The Boundary Commission is accepting comments on the proposed changes, ahead of the planned 2023 implementation date. Further information can be found on the Boundary Commission website.